Export MS Excel Template
The WorkBench is a staging area for pre-cataloged collections data and is not intended as a replacement for editing MS Excel row and column data. However, when creating MS Excel spreadsheets, it is recommended that the column headings match the Specify 6 fields. This will ensure that the data will import correctly into the WorkBench and ultimately into Specify 6. To streamline this process, the WorkBench allows Data Set column headings to be exported as an MS Excel Template.
The WorkBench will not allow the export of a template being used by a Data Set. If a Data Set is disabled (greyed out) in the side bar it must be closed in the work space before it can be exported.
The fastest way to export the Data Set column headings is to 'drag and drop' the Data Set item onto the 'Export Excel Template' action in the side bar. This eliminates the need to choose a Data Set to export.
Or, click the 'Export Excel Template' action in the side bar. The following dialog will appear listing the unopened Data Sets: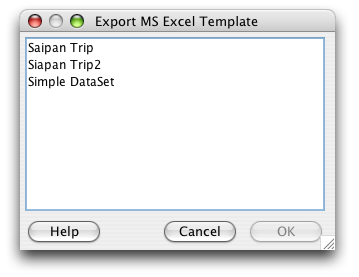 Export MS Excel Template
Choose a Data Set from in the list and click 'OK'.
Next, name and save the export file using the following dialog: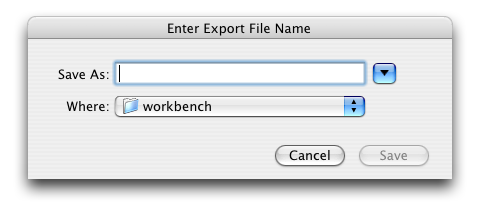 Enter Export File Name
Select a location and enter a name for the new MS Excel file and click 'Save'.