System Preferences
For Mac: Choose Specify > Preferences > System.
For Windows and Linux: Choose Edit > Preferences > System.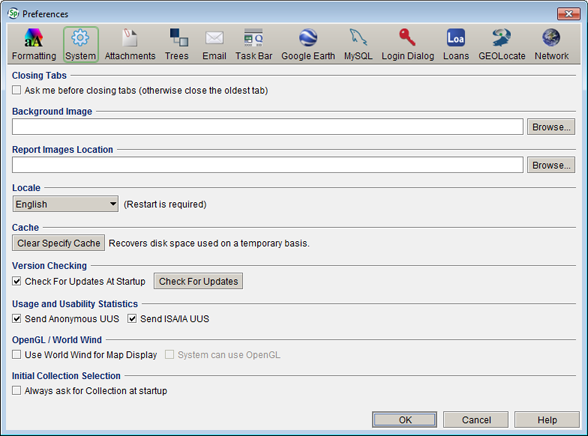 System Preference
These changes are limited to the local application/computer only, they will not appear on any other machine on the network.
Ask me before closing tabs - Specify allows 10 tabs to be open at one time. Once this number has been reached Specify can either automatically close the oldest tab or give a prompt asking the user to either close the oldest tab or close all tabs.

(Check the box to give a prompt. If the box is not checked Specify will automatically close the oldest tab.

)
Background Image - Replaces the Specify image on the Welcome screen and Workspace image with the custom image.
Specify only accepts jpg, png and gif image formats.The recommended size for the icon is 700 x 400 at a resolution of 72 dpi.

Delete the path to use the default Specify icon.

Report Images Location - Images used in reports that are not attachments can be stored in this location.
Locale - At this time Specify 6 has not been translated. If you are interested in helping with a translation please contact the Specify team at support@specifysoftware.org. (Choosing one of the English locales will change labels and dialogs to the local dialect.)
Cache - Clears the Cache within Specify 6. The cache is a temporary storage area used by Specify when interacting with external web services. Clearing the cache will free this disk space.
Version Checking - Specify has an automatic update feature that allows the application to use the Internet to check for updates an

d

download

them

. If the computer using Specify is not connected to an online source it is recommended that users turn off this feature as it will lengthen the start-up process.
Usage and Usability Statistics



Send Anonymous UUS - Specify will automatically send usage statistics to the Specify team. These statistics include usage statistics only;

no Collection data,

and are used to evaluate usage of various aspects of the package to inform future development.



Send ISA/IA UUS - Specify will automatically send anonymous institutional statistics such as counts on collection data to the Specify team. The Specify team will use this data to demonstrate the significance and use of Specify throughout the community when communicating to NSF for funding.

US collections must enter into an ISA Agreement with Specify to receive support. Clicking this box will associate institution statistics with the sending institution.

An institution may not receive support without an ISA number and active ISA statistics.
Initial Collection Selection
Always Ask for Collection at Startup - If you have permission to access more than one Specify collection, and this box is checked, you will be asked to choose a collection each time you login to Specify. When this box is not checked, Specify will automatically login to the last collection that was accessed.